Is anyone else as annoying as I am? I quote movies like it's my jay-oh-bee. Job. Over and over again I quote them. Sometimes I just quote them out of the blue because they're on my mind. Other times I tie random phrases from favorite movies into every day life and pretend that they just make sense. Let me dive into a few favorites of mine.
Mean Girls. I vividly remember seeing it in theaters the day it opened. I was a junior in high school and the entire local theater was packed with kids from my high school, I practically knew everyone in there and we all rendezvoused at Applebees afterwards, quoting it already. Those were the days, right! This movie has no shortage of quotes that also fit into every day life.
"Is butter a carb?"
When Jared and I are eating healthy and I just really want to eat all the bad things.
"You can't just ask people why they're white."
When anyone else says something awkward in a social setting.
"No, I just have a lot of feelings."
When I just want everyone to love each other and get along.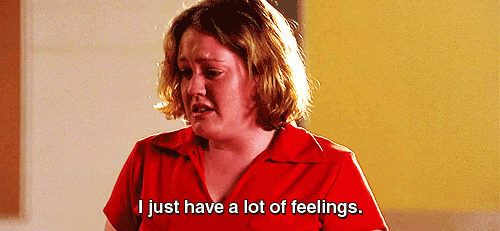 Elf is obviously another classic movie that everyone knows and loves. And I'm sorry, but its not just for Christmas. I typically have to bust it out at least once during the summer for those feel-good moments and to remind me that Christmas is halfway here. I'm obsessed, I know.
"Why's your coat so big?"
Jared and I are both so weird and randomly ask each other this. No rhyme or reason to it, we just do.
"Good news, I saw a dog today!"
Again, no logical reason I should be saying this in every day conversation, but I do.
"Hope you find your dad!"
I say this to people when they leave my house. Seriously, I do
"It's very purpley!"
Anytime someone wears anything purple at all.
Monsters University- such a good animated film. I own a couple of the plush characters and I am not ashamed to admit that! Not quite as quoteable as some movies, but there's a solid one-liner I utilize a lot:
"I can't go back to jail!"
When I think I messed up/did something wrong.
Gladiator- a movie I didn't expect to like when Jared introduced me to it years ago, but man, I loved it. I have one favorite line from that movie: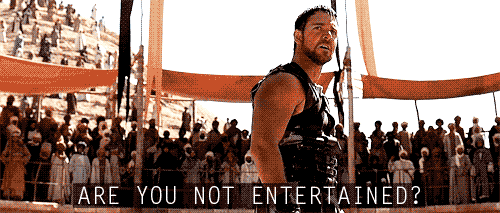 "Are you not entertained!"
When anyone is staring at you and its uncomfortable. Just yell that quote.
And I'll leave you with a favorite of mine. Anne Shirley always had so much wisdom and I never get tired of the Anne of Green Gables movies. Tomorrow is always, ALWAYS fresh.
What's your favorite movie to quote? Are you obnoxious as I am by working in one-lines anywhere you can? ;)