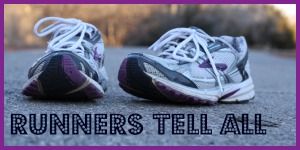 I haven't linked up with my runner friends in awhile, so I thought what better time than the end of the year? This year was a huge rollercoaster for me, as far as running goes. I started consistently training for an actual race early in 2014. I was a novice runner and signed up for my first ever half-marathon. Jared and I trained together most of the time, which helped a lot. He kept me motivated and pushed me when I needed pushed. I was seeing differences in my speed, as well as my mileage, and I was getting excited about accomplishing a huge feat I never thought I would.
Sadly my new found love for running wasn't easy on my body and I didn't take care of myself as I probably needed to. I rarely stretched or cooled down after a good run and one day, sure enough, I pushed a little too hard and hurt my hip pretty badly. I thought a week off would be plenty, but that first run I tried? Still excruciating pain. I took 3-4 weeks off, only walking here and there when I could, everything else was too painful. About three weeks before the race I started back into some super slow jogging and even that was tough. I knew the race would be a monster to accomplish.
But I did it! I recapped everything about that race
here
, but it was the hardest and most painful thing I've ever done. Crossing that finish line was something I will never forget. I will also never forget the pain I felt for weeks afterwards. I swore I'd never do another half-marathon, I swore it was a one time thing.
After I'd recovered from the race Jared and I got back into somewhat of a routine, lifting weights and running here and there, but running eventually got put on a back burner. And now here I am at the end of 2014 realizing how much I've missed it. I haven't made running a priority lately, but the few runs I have gotten in? They made me feel alive again! Cheesy, sure... but it's the truth.
So looking forward to 2015, I have high hopes for myself as a runner. Jared and I are signed up for two half-marathons in the Spring already, and may even add another one later in the year. I learned a lot this year about running, about my body and what I'm capable of, too. Going into 2015 I want to proudly take on the title of "runner" ... not just, a wanna-be who doesn't know what she's doing but sometimes moves her feet on the pavement ;)