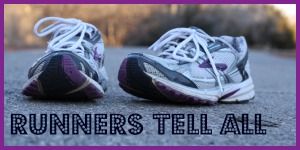 I might just get used to this writing on a weekend type of thing. It's kinda nice, really. Less blogs to read today, so that means EVERYONE wants to read mine, right? Wrong. Definitely wrong, and totally kidding. I just love Amanda's series "Runners Tell All" and I've met so many gals who run by linking up each month! Some are marathon runners, some are just starting out at 5ks, and that is what is so cool. We still all have running in common!
This week's topic was Favorite/Proudest Running Memory. I think you can tell I'm still a newbie runner because most of my posts still find a way to say, "HEY! I did a half marathon in May!" But when that's the only 1/2 you've done, what else could I possibly be more proud of?
Since the half is the obvious, easiest answer- I figured I'd stray away from that and talk about a different favorite running memory. My very first 5k. It was the summer of 2009 and Jared had convinced me to do one with him. I was terrified, which seems silly to be me now. I was in decent shape, ran here and there and goodness, it was only 3.1 miles, how tough could it be?
The answer to that question is pretty tough. It was a SUPER hilly 3.1 miles. I'm serious- I don't think a single part of the course was on flat land except for the starting line. I was sore midway through the run already- but I still loved it. The race day itself was pretty exciting. That was the day I realized how awesome the running community really was. I wasn't fast by any means, but everyone cheered everyone on, spectators waved to us, and breakfast afterwards?! Okay- I love running from here on out!
It was a 4th of July race, and there were some veterans along the course waving flags and blowing whistles. Their support meant the most. I wanted to stop and go hug them all, but decided that might have been a bit weird. Jared and I took out our iPods and quickly yelled, "Thank You" and just the smiles they gave us back were enough.
End of story? Run one race. Instantly become part of a huge, incredible community of people.