Technology is great for the most part, but don't you all sometimes wish we just lived in simpler times again? It's like everyone is constantly, constantttttly plugged in. I seriously hate technologies some days... think about it:
People nowadays worry if they haven't gotten a text, seen a tweet or status update in 2 hours from someone. Before all of social media and texting technology, it was no big deal to go days without hearing from a family member or friend. Last week when I didn't blog/tweet for a couple days in a row? People asked me if everything was okay!!
Then there's traveling. It's so easy to shoot a quick text to a family member that you've landed/arrived in your destination. When we didn't have cell phones? You'd have to wait until that person went to a pay-phone or their hotel room to make a long-distance call! Or better yet, you just trusted everything was fine.
Relationships. You give a guy your number back in the day? They should CALL YOU to talk with you and formally ask you on a date. None of this texting, "Hey, wanna go out 2morow nite?" And then following up after the date, "Last night was awesome. Hang again soon?" That's the easy way!
And I can't tell you how many people I know who claim they "hate talking on the phone" .... what?! Don't you all remember junior high and your parents having to put limits on your phone lines (or getting you your own line... what?!) because you and BFFs couldn't stop gabbing away?! Why does everyone suddenly want to only text and never talk? Things are getting so impersonal, it's mind-boggling. I don't talk on the phone every day or anything, but I love a good catch-up session with my mom or a friend.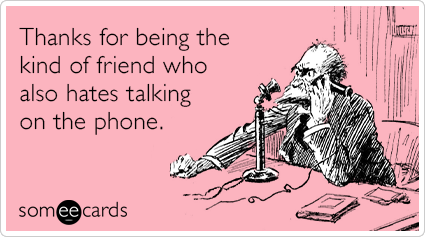 Another thing... I used to have numbers MEMORIZED! Probably dozens and dozens of them! I literally only know my own cell phone number, Jared's cell number and my parent's house number. If I'm ever in trouble and can't get ahold of them... it won't be good!
Social gatherings. People had to be just that: SOCIAL. Sometimes at family get togethers or holidays I'll look around a room and almost every person is on their phone. People are not as present as they used to be, because before technology there was no other option but to talk!
Now excuse me while I go tweet my blog post to the world...