I'm taking a day off from the Disney recaps so you guys aren't overloaded. Ha, let's be honest... those posts just take so much time due to ALL the pictures and ALL the things I want to tell you about magic that is Disney. I'll be back next week to share our days at the Magic Kingdom and Animal Kingdom for sure, but today... it's Friday. I want to write about whatever I feel like and let you all know I do sortof have a life after Disney as well ;)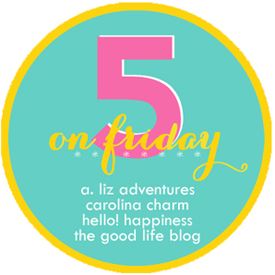 1. Warmth! Not only am I thankful our furnace got fixed (and at a better price than we originally thought!) but Ohio is giving us some temperatures in the 50s this weekend and I am thrilled! I'm also pretty pumped that warm weather means baseball season… we didn't get to the ballpark much at all last year so hoping we can catch a few more Reds games this summer.
2. Decluttering. This is a never-ending part of life and home ownership, but Jared and I have really been stepping our game up and trying to truly simplify our home. We don't plan to live in this house forever, and whenever the time comes to move? I want to only be packing and bringing stuff we love!
3. New blog friends
. Meet my newest blog crush,
Erika
. She decided to sponsor LFF (why, I don't know?!) and I really haven't been able to stop stalking her now! Talk about a beautiful, organized space of internet. Seriously, look at her '
best of
' page and tell me you don't feel like an inadequate person! ;) I kid, I kid... I'm just glad I found who I want to be when I grow up!
4. Weekends with no plans! Can't wait to just lay low and do whatever we feel like for the next couple of days. Hoping for a weekend with the perfect mix of productivity and relaxation. (And hopefully some Easter candy… my gosh it's been tempting me!)
5. Plastering my blog name on anything I can find.
Does that make me sound like a total jerk? I don't mean it that way, trust me. But it's kinda' cool to see your brand/logo on an every day item-- thanks,
Express Imprint
! Spring and Summer are around the corner
(fingers crossed)
and I'm already planning parties, grill-outs, etc. Who wouldn't want to hold their favorite beverage in a blog-branded koozie?
Custom koozies with no minimum
... shoot, I should totally order them in bulk and hand out at my get-togethers, right? ;) You're all invited!
Happy Weekend, friends!! What are your upcoming plans? Any good weather headed your way?