Oh, May... you have been seriously good to me. So good in fact that I'm actually going to be able to link-up with Ashley today because I planned ahead for this post ;) *SCORE!*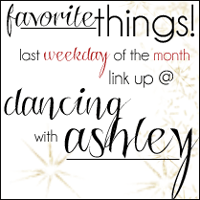 1. Our Anniversary-- duh. I won't bore you any longer with our mushy-love-fest of celebrations, but seriously... being married just rocks.
2. Being in Caleb/Kayla's wedding! Again, hard to put into words how happy we were/are about this day but WE ARE OVERJOYED!! Now come home already so we can make human "M's" anytime we want!
3. Fresh manicures at a friend's house. I haven't had one in monthsssss, so it was nice to have a reason to get gel nails done for the wedding! (Thank you, Seka!)
4. The love and support from the blog community when I shared this post. Keep those prayers coming because let me tell you, I think they are working!!!
5. Setting goals with Jared. We kinda' bombed on a lot of ALL our to-do lists for this month.... but with so much celebrating going on, it was just too hard. So now that I admitted we failed and did nothing productive in May, just know that our June list is looking awesome and I'm excited to tackle them next month!
6. My new camera lens!! I've been using the kit lens that came with my camera for 4+ years and finally treated myself to a 50 mm f/1.8 by Canon. I'm obsessed! I mean, have you ever wanted a cold Mountain Dew more in your life?! ;)
7. Sponsors! Honestly, I meet some of THE best people from the awesome bloggers who choose to sponsor my blog. I am so grateful every time someone decides to hang out on that sidebar with me.... if you haven't checked out any of their blogs, I so encourage you to do so. I have got some genuine, hilarious, caring souls over there.
Plus- blogging has given me a platform to spread the word about a 5k race I'll be running this weekend and to help a friend's podcast get some extra exposure as well. Who knew blogging would be this rewarding?! :)
What have been some of YOUR favorite things this month?! :)