Hello all! It's us! Sallie & Perkins! It's been awhile since we have gotten a chance to really say hello and visit the blogworld, so I hope you're as excited to see us as we are to post today. With the holidays quickly approaching, we figured what better time than to share a S&P gift guide. These are the top ten on
our
list this year, and might just give you an idea for the budget-savy nerd in
your
life.
1. Tightwad apparel and home decor.
All can be purchased here
Because, what better way to get out of debt than to broadcast to the world how broke you are, right?! Hoodies, tee's, perhaps a nice mug to sit on your desk and give you dirty looks if you even think about getting your debit card out? The possibilities are endless!
2. The Water Pebble
This little guy will sit in your shower/bathtub and will help you conserve water. It will monitor your usage on the first shower and then helps you cut back! You can program this bad boy and according to the website "t
his pebble incrementally shortens its suggested stop time, training you over weeks to use water wisely."
3. Tickets to see Dave Ramsey live
This guy inspires us and has really helped us get on track with our debt. How cool would it be to see him live and maybe even have the chance to let him know how he has impacted our lives??
4. Tube-Wringer
Squeeze out up to 35% more toothpaste with this handy contraption. I hate paying for things like soap, toothpaste, etc because they add up so quickly! So if I can do that less often and save a few extra bucks? You know we're asking for one of these!
5. Date Night goodies
For those date nights at home, you've got to keep it interesting and educational, too! So pick up the complete collection of Bill Nye on DVD, or perhaps a periodic table puzzle?! Date nights can be cheap and fun with these new additions.
6. Office Supplies
Most can be purchased here
The budget-conscious person needs the ability to keep their office/workspace organized. All those bills, payments, receipts.... they have to be kept neat in order to get out of debt! Why not splurge on a leather pocket protector? A StarWars talking bank for those extra coins you find in your desk? StarWars light-saber pens? (In case it isn't obvious--Perkins LOVES Star Wars!) Fun items like these make GREAT stocking stuffers.
7. A motivational book
How about the hit e-book "How to buy seemingly worthless knick-knacks at yard sales and sell them on Ebay to get filthy rich" or even an autographed copy of "Who Moved My Cheese"?
These can be tough finds, so if you can snag a copy for us, or someone on your list, you'll be the hero of Christmas!
8. Giant Piggy Bank
We gotta' start a college fund for our future children, so why not have somewhere fun to store it??
9. and 10. Something personal
Think about what that nerd in your life realllllly wants. For Sallie it would definitely be a new fanny-pack, possibly with sequins this year. And Perkins, ohhhh he's been dying to get a pair of first-edition vintage Hulk hands. Those gifts make us so excited we just can't help but do a Christmas jig!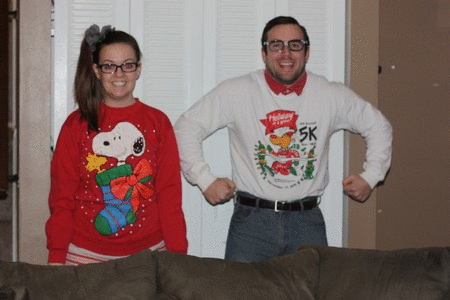 I hope this original Sallie & Perkins gift guide will help you buy for the nerd in your life this year.