Being a football fan sure is a tough job sometimes, isn't it? This time last week I was probably still in tears over the Bengals ugly, ugly loss to the Cleveland Browns. Today? Although still partially asleep and looking like a total grease-ball, I'm stoked about our win over the Patriots yesterday. It was a game we weren't expected to win, which makes it that much better.
It's a rollercoaster being a football fan, there's no denying that. One minute you're pacing the floor, throwing your chips at the TV screen wondering how the heck your team thought THAT was the play to call?! The next minute you're jumping up and down on the couch and high-fiving anyone within reach over that gorgeous touchdown pass.
It's only weird if it doesn't work...
On days we lose, we're grumpy, we want to eat junk food and be lazy. On those sweet days of victory I have more motivation than anyone. I can clean the whole house! Cook a feast for dinner! Work out an extra hour! It's insane how much a football game can change my attitude. I'm not going to pretend that's totally healthy, but it's the truth ;)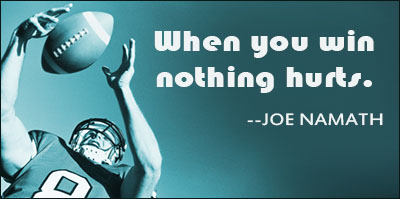 So, Erin... is your blog post today really just about how much you love football? Yup- you are correct. I told you all I had Saturday off this weekend, but I didn't mention that I still had to work Sunday, so as usual, I'm trying to regroup on this Monday morning. It's a lot easier when your team won, that's for sure. It's definitely a lot easier to watch the Sunday night game(s) with a good attitude when your team already clinched their "W" for the day. (Dear Texans fan- I truly feel for you and want to give Matt Schaub a big hug. You guys are better than that!) But still, I'm exhausted and this is my excuse for a post today.
Did your team win this weekend? Are you an emotional football fan like me? This blog has been slacking, with football being the only thing on my brain, but I promise I have lots of fun things planned for the coming weeks, so don't give up on LFF just yet! :)