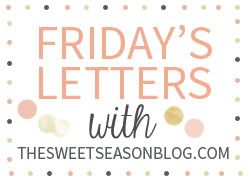 Dear Friday, Thank you for being here. I plan on doing absolutely NOTHING tonight when I get off work. Glad you're cool
with that.
Dear Bengals, You looked good last night. I have high hopes for this coming season!
Dear Jared, HI :) Looking forward to our fun -cheap- date tomorrow!
Dear Kayla, HAPPY BIRTHDAY!!!! It's hard to believe we've been friends for 4 years now. I just can't remember life
before our friendship :)
I know we joke about it all the time, but when you started dating Caleb I never imagined the friendship we would have one day. I couldn't be more blessed to have you as an incredible sister-in-law.
It's not every day you can find someone you have so much in common with. Someone you connect with on all levels. Someone you can be in tears laughing so hard together one minute, and then in a totally deep conversation the next. Someone you can create your own secret language with. Someone that you talk to every.single.day. and still never run out of things to talk about.
Someone that gets just excited about birthdays and holidays and celebrating all of lives achievements as you. Someone that you know you'll still be making music videos and embarrassing yourself with for years and years and years.
Kayla
, this last year was pretty great for you and I pray that 22 is even better! Love you, soulmate!!!