Reading: Jodi Picoult, The Storyteller. She's my favorite author so of course I love everything she's written, but I was sucked in by like, page 3 with this book. Cannot wait to see what happens. #bookworm
Writing: Blog posts, reviews and always trying to work on that novel of mine. Why do I have to work a regular job again?! ;)
Listening to: One Republic station on Pandora. So many good jams, and work appropriate!
Thinking: About all the places I want to travel. Between LivingSocial, Groupon and TravelZoo the emails are causing an insane spike of the travel bug.
Right now this all-inclusive to St Lucia sounds GREAT!@
Wishing: Football season would just get here already.... it's consuming my mind/life already so bring on taht first game!!!
Wearing: Black dress pants and an orange top. Are we surprised?? #GoBengals
Eating: Carrots and hummus. It's my go-to snack every day. Plus a sale on hummus at Kroger makes it even more enjoyable. That crap isn't cheap!!
Loving: Our budget, our attack on debt, seeing those student loan numbers drop.
Hating:
Being on a budget, our debt and not being able to shop.
(I rhymed there, did you see it?!)
Feeling: Tired. Always tired. I MUST start going to bed earlier during the week. That alarm always comes way too early!
Wanting:
Everyone to link up with my friend
Steph
today! It's a post that will make you happy, I promise :)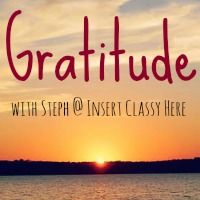 Things I'm feeling grateful right now???
1- Having a little "sister" :)
2- The craziness of football season. I wouldn't have it any other way!
3- My Disney ring, always. That was seriously a vacation/birthday I'll never forget!
4- Blog friends turned real life friends. Hi,
Jen
!