Happy Monday, friends!!! :) Remember
Friday
when I told you I had a bajillion things crammed into one weekend?? I wasn't kidding. It was one of the busiest weekends ever, but a productive one at that! So even though most of your blog reading list might be filled with pictures of green and shamrocks galore, I'm saving some of my updates for tomorrow and Wednesday. And the only reason for that is that I'm slacking on the blog and
didn't get anything ready in time.
Oh, but since Erin means "Ireland" and everything I DID grab this picture for you guys. Obligation, I suppose ;)
Luckily- My girl Kaitlyn is here to save the day & entertain you today. I was pretty excited when she told me she wanted to share some recipes on my blog because I am ALWAYS looking for new ones. Sometimes Pinterest is just too darn overwhelming, so it's nice to have a more personal reference on a recipe someone knows and loves. So check out her recipes and her blog today and you'll make this "Irish" blogger one happy Erin!!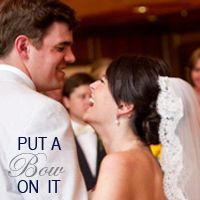 Hi sweet Love Fun & Football readers! I'm Kaitlyn and I blog over at put a bow on it. I "met" Erin a little earlier this year and what can I say, it was love at first sight. Another girl who loves football as much as I do? I was sold.
Like Erin, my husband and I have been trying to eat healthy & clean lately. Sure, that mac and cheese tastes pretty freaking amazing, but we feel SO much better when we eat better. (Said husband will call me a hippy when he reads this!) Pinterest is a help, but, like I'm sure you've all noticed, there's WAY more cheesy & fried recipes than healthy & delicious!
So today I want to share some of our favorites with all of you! We LOVE these recipes and have made them multiple times, and will continue to do so.
The first, and my favorite, is one I tried to be a food blogger and post. TRUST ME - you will want to make this. I know it's a soup and I know it's not really soup weather anymore, but it's so good that IT NEEDS to be made. I changed up the recipe a bit, but the original is linked on there so you can make it your own!
And now for a few more:
1. This is what I make on nights where I just CANNOT cook. Rather than run out to get Chick-fil-a, I throw some chicken in the oven and roast some broc. These packets are amazing - not only do they taste like heaven, but they are 100% all natural. Seriously, read the ingredients - you will know every one. And it's cheap! They have three different flavors from what I've seen at Target. (And also world market! Get you this and some wine and you're set.)
2. I'm obsessed with Cantina Laredo. It's not tex-mex, but it's the BEST Mexican restaurant I've ever been to. They have a pomegrante margarita that is out of this world. But back to food - their tortilla soup is the best tortilla soup I've ever had. I don't like chunky torilla soup, so this was perfect. I watched a video of a chef from CL making it and then used this recipe to make my own. I left out the jalepenos and the diced green chilis and rough chopped the onion instead of dicing them. And we didn't bother with the fried strips or avodaco. Topped with some cheese - this was amazing.
3. Cauliflower bread sticks. In addition to Erin's rice recipe, you guys need to make this. NOW. Basically, go buy stock on cauliflower. I used this recipe and used four cloves of garlic instead of 2 and was a little more liberal with the cheese - we used the new Kraft with a touch of Philly Motz because it melts really well. Pro tip - bake it on parchament paper on a cookie sheet. When it's time to flip it over, lay another sheet on top and flip it onto that new sheet, then back in the oven. Works perfect!
4. And now for the best one - the eggplant parm. This recipe is hands down the best one ever. We did exactly as she says to, just maybe put a bit more ricotta in the middle. I'm sounding like a broken record, but make this now - you won't regret it.
So there you have it - four simple and healthy recipes! (Made healthier without cheese, but come on, I can't let go of my cheese!) Come over and say hi, I would love to have you!