I know, I know.... just another blogger claiming they want to get organized in 2013. WRONG! I mean, I do want that for my life, but it's been an ongoing process. Last fall I started with a few minor organization projects and it's amazing how good you feel when you declutter a space. Jared and I donated at least 5 bags full of clothes, shoes and coats to charity a few months ago and I honestly can't wait until we can drop off more!
It's easy to get overwhelmed of ALL the things that need updated and/or organized in your house, so when I found this
52-week organized home 'challenge'
I knew I wanted to try it!
I shared this with
Carolyn
and she's giving it a shot too. We both agreed that SOME of these things won't take more than 15 minutes, and some of them don't even apply to us. (
Um, storing china, crystal and silver?! Pretty sure I don't own any of those things!
) But it's a GREAT list that I'm happy someone else made instead of me. It will definitely keep you on track, and of course you can skip around to different projects on different weeks, but my goal is to check off all the ones that apply.
It's no secret that just the site of containers or any form of organization makes me happy---
like, almost hyperventilate in The Container Store type of happy-
-- so this challenge is perfect! Anyone else thinking of giving this a try?!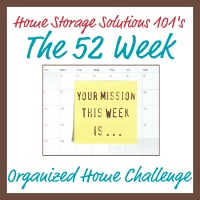 PS- Happy FREAKING Friday everyone!!!! :)