Happy Friday & weekend to you all! Unfortunately, this is a working weekend for me-- so I'll be in the office Saturday & Sunday instead of enjoying the beautiful sunshine. So I request that you please, live it up this weekend, take lots of pictures, and post amazing recaps on Monday so I can live vicariously through you all ;)
And with that--- I'll start my first ever Friday's Letters linkup with
Ashley
!!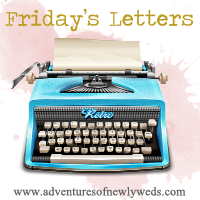 Dear Friday,
You sound nice in my head, but not this weekend. Please just let me get out of the office by 7 tonight, thanks.
Dear Motorcylists,
you are always telling us to watch for you and share the road--- So DON'T go speeding through two lanes of traffic, ON the white line at 90mph. You're going to get yourself or someone else killed.
Dear Heat,
I've actually been enjoying you, but wish I could find a way to spend all day in a pool with you. Maybe next weekend?
Speaking of heat--
Dear Work Crew
, I feel bad that you are working so hard in this heat. You're doing awesome-- stay hydrated!!!

It's been pretty cool seeing the field transform every day!
Dear Kenny Chesney & Tim McGraw,
Hope your concert
ROCKS
! I've put a lot of work into it too, so a shoutout from the stage would be appreciated ;)
Dear Blog World,
You guys are all awesome. Plain and simple!!
Erin-