I am
OFF WORK today
all. Enter the
happy dance
!!
Don't be jealous- this will be my
very
last vacation day for an extended time, so I'm going to soak it up :)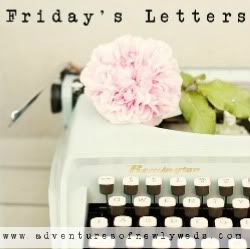 Dear Friday, Glad we get to spend the day OUT of the office. Let's party!!
Dear Mamaw, I'm coming to visit you today and I'm so looking forward to seeing you. :)
Dear Caleb, Happy Birthday brother-in-law!!! I know your lady has an awesome day planned for you :)
Dear fat fingers, could you please unswell?! I need to get my rings cleaned but they are currently stuck… =\
Dear laundry, go ahead and wash, dry, iron and fold yourself. Thanks in advance.
Dear Kayla, WE ARE GOING WEDDING DRESS SHOPPING TOMORROW. Ahhhh!!!!!! :)
Just 7 months til this beautiful gal get's married!! :)
Dear Jared, You are awesome, per usual ;) Looking forward to date night tonight!!
Dear Blog world, You continue to amaze me. Thank you to each and every person who follows and comments on my blog. And if you don't comment, please do!! :) I'd love to "meet" you!!