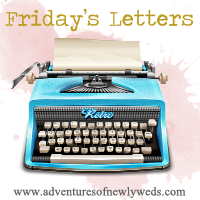 Dear Friday, You actually got here realllllly fast this week, which I can appreciate.
Dear Saturday & Sunday, we'll be spending time together at the office, I'm sorry.
Dear Football, You are running my life and I don't care. Bring on the games!!
Dear Kayla, Your 21st bday is NEXT WEEK! Cannot wait to celebrate 9 different times with you :)
Dear Stress, Please leave me alone-- especially when I'm trying to get some much
needed sleep at night!
Dear Hubby, Thanks for putting up with my crazy hours and OCD self lately. I promise to be more fun ASAP when things settle down ;)
Hottieeeee ;)
Dear Readers, As ALWAYS you rock! And welcome to all my new readers!!
O-H-I-O represent!! :)
TGIF blogland!!! What are you doing this weekend???