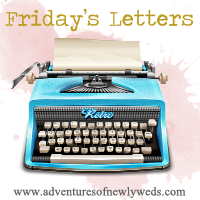 Dear Cousin Dillan,
We love you and are praying for safe return from Afghanistan in a couple months.
(J's cousin Dillan was in an accident yesterday; he is okay, had minor surgery, but some of his fellow soldiers were badly injured. Prayers are appreciated for all of them)
Dear Blog Friends,
You guys ROCK! I can't say enough how much I enjoy your comments & emails :) Please keep them coming!
Dear Bengals,
You guys kinda' looked awful last night.... but it's preseason and we have a lot of injuries. So get that crap together and get ready for September 10. Thanks.
Dear Passengers in other cars this morning,
I'm totally fine that you see me rockin' out on a regular basis. In case you were wondering, today was a full-blown Katy Perry concert.
Dear Weekend,
I am SOOOO excited for you! J and I have a fun, FUN weekend plan and I couldn't be more excited! I'm overdue for some hot dates with my man!
Dear Brother-in-law and Sister-in-law-to-be,
GET YOUR BUTTS
home from vacation. I would like to squeeze you both!
Dear healthy food,
I am very bored with you, but the scale is giving great results so far. I'll try to keep being your friend more than
Mt. Dew, Buffalo Chicken Dip and carbs in general
some other stuff.
Dear Husband,
You are incredible. Thanks for being my best friend, my encourager, my rock and my joy every single day. Love you!