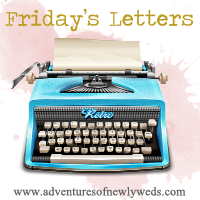 Dear Friday,
You are FANTASTIC and I appreciate how quickly you got here this week. Let's make that a regular thing.
Dear Ringbearer and flowergirl,
I cannot WAIT to see you tonight. I can't believe how old you two are getting!
Dear Hair,
I know I've been neglecting you for MONTHS. There is
officially
a hair appointment on the calendar for next week. Thank goodness.
Dear Bengals,
I know preseason doesn't "count" but you guys are looking good so far. Keep it up!
Dear Saturday,
I am SO EXCITED BECAUSE WE HAVE ZERO PLANS AND ZERO OBLIGATIONS!!! That never happens so clearly, I am looking forward to a day with my husband.
Dear Hubby,
You work SO hard and I'm always SO proud of you. I hope you know that ;)
Dear Bloggers,
Have you signed up for our fantasy football group?! No draft parties, no trading, etc etc... just as simple as picking players and spending $50 million. Get all the details of how to sign up
here
!