As I told you all on
Friday
, I had to work this weekend.
A lot.
In really hot, non-airconditioned areas.
But guess who is still standing today?! ME! Barely standing, and actually my shins are sore because I had to sprint around a football stadium numerous times yesterday afternoon, but I survived.
I will say, once you work Saturday and Sunday, Monday doesn't feel quite so "Monday" anymore. Maybe I should work every weekend? (Yeah, right.) I almost left the house this morning in pajama pants. Like, was already in my car about to back out of the driveway when I realized it!!! In my defense, they WERE black ;)
ANYWAY
- My husband was such a great sport this weekend. He worked his little booty off while I was at the office. Our house is spotless, the yard is taken care of, most of the laundry is done, he cooked dinner Friday and Sunday night,
pre-made both of our lunches for the whole week
(I about fell over), and even had a few sweet surprises for me when I got home each night:
Is there anything better than Graeter's ice cream?!
Mint chocolate chip is my personal fave ;)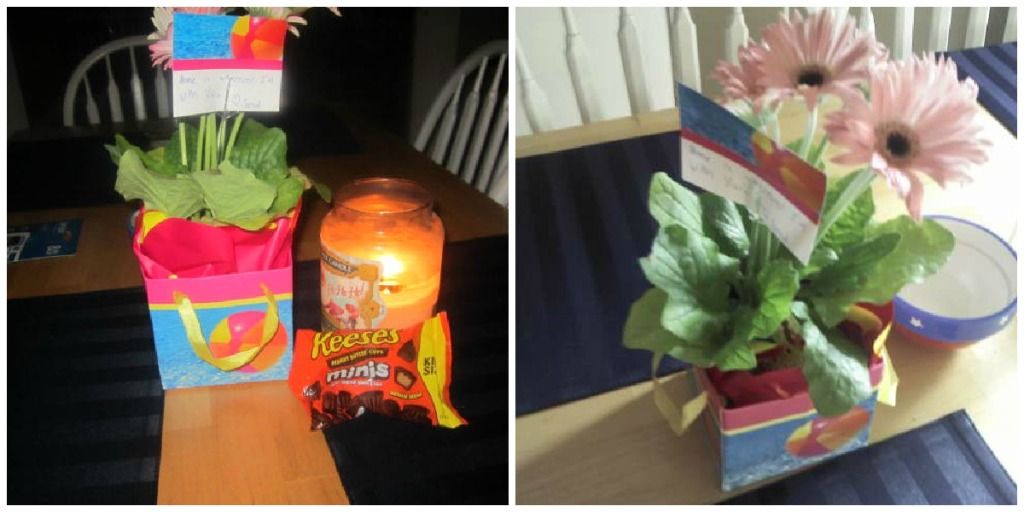 When I got home last night dinner was ready, my favorite candle burning, flowers and Reese minis!!
I.am.spoiled. End of story!
So I really just had to brag about my husband today, that's all. I hate weekends where I have to work the entire time, especially when it's this hot out and J truly made it so much easier to get through.
PS- Last night I got home just in time to watch this gorgeous sunset from our front porch. Ohio- you are really pretty sometimes :)
I know I missed a TON over the weekend- so I'll be catching up on all your blogs today :)