...middle of the week holiday thing. Not gonna lie-- When I first realized the 4th of July was smack dab in the middle of a week I was BUMMED. Where was our long weekend?!?!
But today, I am much happier that it was on a Wednesday. I could definitely get used to this work-two-days, off one, work-two-days, off two deal! Anyone else?
We ended up not doing anything we had planned to on the 4th, but had a blast anyway! At the last minute, J's brother and his family called us to see if we wanted to go to a waterpark nearby with them. We'd never been, it was cheap and we figured the pool was really the only place to be that day!
So we got our gear on and headed out into the heat!
Thank you Target for the amazing $1 glasses :)
I think my nephew might have rocked these a little better than me ;)
It was a gorgeous day to be at the pool, and even though it was packed it was still a blast!
Yesterday we got to
FINALLY
go see a new little life we call Landon Matthew-- our friend's baby that was
born 3 weeks ago
. He was just the most precious thing we've ever seen!!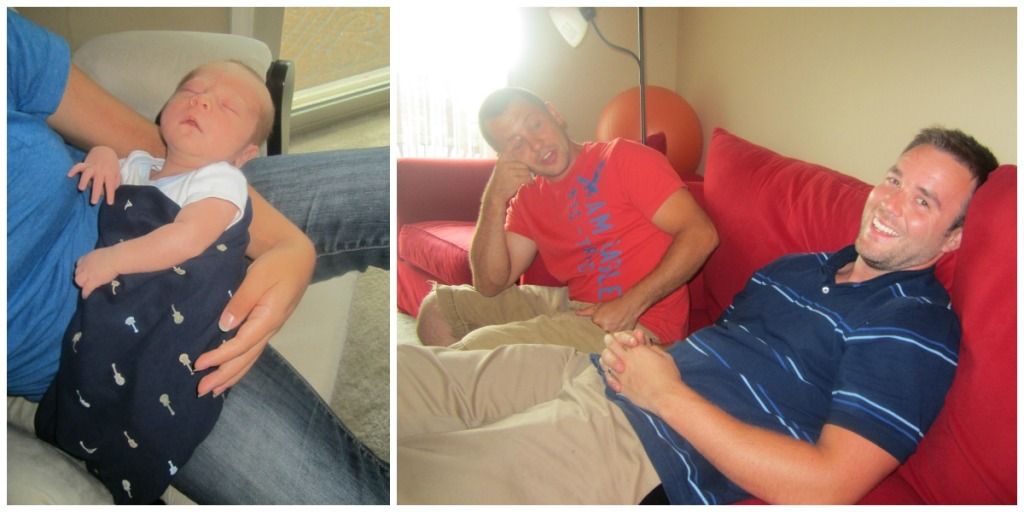 Baby Landon; the proud daddy catching up with J :)
So like I said, nothing we had planned actually happened, but those are the best kinda' days sometimes! I'm looking forward to this weekend a lot. Date night tonight, woot! And tomorrow we are celebrating my sweet Great-Aunt's 90th birthday party!!!! 90th, people!!! What do your weekend plans consist of?! :)